Greetings in the Majestic name of our Lord and Savior Jesus Christ! We are elated that the spirit of God guided you here and we consider it an honor for you to visit the Day Star Tabernacle International's website. We pray that your visit with us will empower, excite and encourage you. It is our prayer that God will meet every one of your needs as you visit with us. Remember, "Wise men still follow the Star."


Learn more about what's next on Day Star's calendar of events.

Click here.


Hear some of Apostle Horton's past messages.

Click here.

At the Day Star Tabernacle International Apostle Halton "Skip" and Pastor Alicia Horton are visionaries who are committed to teaching the uncompromised word of God in season and out of season and proclaim the gospel of Jesus Christ. The vision God gave was to have a church without denominational persuasion that would draw people from the north, south east and west. The ministry is designed to equip the saints and bring them into maturity.


"We have also a more sure word of prophecy; whereunto ye do well that ye take heed, as unto a light that shineth in a dark place, until the day dawn, and the day star arise in your hearts"
(2 Peter 1:19)
---
The Watchman Sees Things to Come
Click
here
to order.
---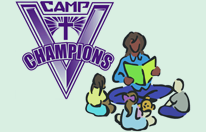 Summer Camp
May 27th-July 31st
Ages 5 to 14 years
Learn more...